Pressure over Gas Exports: Why is Gas Pipeline Getting Rusty?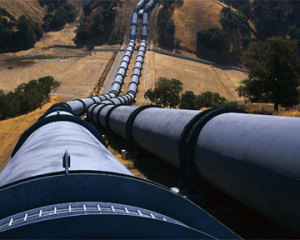 The "winter package" agreement securing gas supplies for Ukraine expires on April 1. From December 2014 to March 2015, Ukraine has been importing gas from Russia on a prepayment basis with a $100 per 1,000 cubic meters discount. Russia, EU and Ukraine are holding active talks to extend the current gas deal. However, Russia feels very tempted to start a new gas war. Whether the Kremlin will give in to this temptation will depend on the situation in Ukraine's east.
Needless to say, Moscow's gas policy is determined by politics, whereas the economy always falls by the wayside. The Kremlin has repeatedly used the gas lever  to make Kiev more compliant. After the Orange Revolution of late 2004, pressure over gas exports was the main "whip" that Moscow was actively using to show Ukraine the naivety of its attempt at breaking free from its energetic and geopolitical dependency on Russia.
In 2013, Ukraine's former president Yanukovych who was ousted last year had been rewarded for his "constructiveness" with  a considerable $200 discount   off the contract price set under the one-sided 2009 agreement, for the signing of which Ukraine's former Prime Minister Yulia Tymoshenko was serving a prison sentence.   Moreover, Moscow demanded that Kiev make a clear choice whether it is with Russia or with Europe.  As a result, the Ukrainian people turned to Europe whereas the compliant Yanukovych fled to Russia ignominiously.
It is no surprise that after the February 2014 revolution in Ukraine Moscow  annulled all gas discounts and demanded that Kiev henceforth prepay for all gas. The new gas price for Ukraine turned out to be higher than the average European gas price, and Kiev refused to pay.
Also, Russia cannot prevent reverse gas flow to Ukraine from Central and Western Europe since it seems to be too disadvantageous for Gazprom to put pressure on European countries. Thus, in 2014, due to a decline in gas supplies to Europe, Gazprom lost 5.5 billion dollars. It is even more insulting for Putin to see Budapest increase gas supplies to Ukraine to a record high level right after he promised Hungary cheaper gas in exchange for stopping reverse gas flow.  All Moscow can do is to threaten to stop gas transit to Europe via Ukraine, but it looks like European countries are not scared of that anymore since winter is over and they have more than six months till the next cold season to increase imports and to fill underground storage tanks with gas coming to Europe through different pipelines.
Ukraine, in its turn, is prepared to stop buying Russian gas completely from April 1  largely because Gazprom has recently started providing direct gas deliveries to Ukraine's eastern regions that are under the control of pro-Russia separatists. And as weird as it may sound, the Kremlin somehow believes that Kiev has to pay for these deliveries.   It seems unlikely that Russia and Ukraine could find common ground in this situation because, however much alike they are, Moscow and Kiev are clearly not on the same wavelength. We have already written about different scenarios concerning gas deliveries to and via Ukraine. Last winter showed that Ukraine can manage without both Russian gas and its transit via the Ukrainian territory, and the 'Soyuz' pipeline, a Soviet relict that has been used for decades to transport natural gas from Siberia to Europe, will be left to rust under Ukraine's blue skies.