Investment Climate (Russia), oil on canvas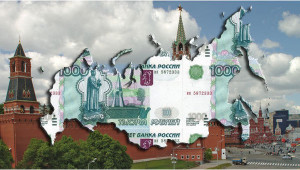 The wish of Kremlin top officials-or at least those among them who understand anything about the economy-to find a way to get the Western sanctions against Russia for the annexation of Crimea and the military conflict in Ukraine's eastern regions lifted is obvious and understandable. Western sanctions make it considerably harder for the Russian business community to secure financing and develop technologies, and the food embargo introduced in response to the sanctions only makes it worse.
Although the volume of supply to Asia increases yearly, the vast majority of Russian exports, especially oil and gas, still goes to European countries, not to politically close China. In 2014, EU countries accounted for 48.2 percent of Russia's trade turnover. According to the Chamber of Commerce and Industry of the Russian Federation, Russia's main trade partners are the Netherlands, Germany, Italy, Japan, South Korea, Poland, Great Britain, China and Turkey. However, Kremlin has recently introduced "restrictive measures" against Turkey in response to the downing of a Russian jet fighter that had been flying over Syria and had briefly crossed into Turkish airspace.   Furthermore, over a year ago, Russia introduced an embargo with regard to its other European "partners" banning food imports from these countries.
In this situation, it is, most and foremost, the Russian economy that is coming off a loser. In 2013, just before the invasion of Ukraine, Russia ranked one of the most attractive countries for foreign investment.  In 2014, foreign investments dropped by 70 percent to $19 billion.  Moreover, an inflow of investments was only noticed in the first half of 2014 followed only by net flight of capital from Russia, which, according to the nation's Central Bank, had not happened since 1994. As of the first half of 2015, there was a 46.1 percent drop compared to 2014. Even according to the nation's Central Bank's revised optimistic forecast, the 2015 flight total will amount to more than $70 billion. No comments seem necessary.
Kremlin's propaganda machine is sending maydays to the international business community calling on it to invest in Russian economy.  According to the reputable but rather commercially-oriented Bloomberg, the attractiveness of the Russian market is increasing and Russia has "become the most attractive BRICS country for investors in 2015".
Russia's traditional raw material-producing industries such as oil and gas industries, metallurgy and agriculture are still the most attractive for investors. However, the Western sanctions that have already lead to a shortage of mining equipment make it difficult to invest in the extraction of mineral raw materials. Moreover, Putin's infamous unquenchable craving for renationalizing Russian exporters of natural resources – suffice to remember the mid-2000s expropriation of Yukos and the more recent Bashneft case – spoiled investors' appetite for blue chips of Russia's stock market except for the most recklessly speculating dealers.
In this context, the situation on the Russian pharmaceutical market looks way more encouraging and has already begun attracting the attention of European manufacturers. This is no surprise since Russia has almost no advanced pharmaceutical manufacturing technologies of its own, the population's decreasing income level forces people to switch to less expensive drugs and the Western sanctions are unlikely to affect this sector because this would look too inhumane. However, the notorious import substitution plan is bound to reach the pharmaceutical industry sooner or later.
Restrictions that have been extended to include foreign travel (Russian public servants have long been discouraged from spending their vacations abroad, and the military campaign in Syria has resulted in Russians losing access to their favorite Egypt's and Turkey's beaches) along with the ruble's twofold devaluation lead to an increase in domestic tourism which suggests yet another area for investments.  In August 2015, the Japanese hotel chain Toyoko Inn declared its plan to build a chain of hotels in Moscow and Saint Petersburg where the price for a room would supposedly not exceed 50 dollars per night. Also, in October 2014, the international Hilton chain that already owns hotels in many Russian cities, declared its intention to build three new hotels in the Altai region.
There are probably more examples of potentially attractive investment areas because the business community is on the constant lookout for new markets regardless of how bad conditions are. However, the inflow of foreign investments into the Russian economy would be much higher if not for the Kremlin's aggressive and military oriented foreign policy that is being enforced onto the Russian population and implemented in Ukraine and Syria.  The Western sanctions, the food embargo and other restrictive measures in the gloomy atmosphere of an all-pervading state-level corruption that has long become a staple of the current Russian regime along with the absence of fair elections and independent judicial system create such an outstanding combination that no Bloomberg can improve no matter how much is paid for it.