Vnesheconombank, the Black Hole of the Russian Budget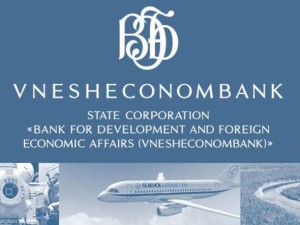 Vnesheconombank (VEB) is a Russian state corporation for development, and although its name contains the word "bank," it has no Russian banking license. Therefore, by virtue of law, Vnesheconombank is not a bank.  VEB is a specific Russian–and before that Soviet–government body, the history of which goes back to 1922, the year of the creation of the USSR. In fact, Vnesheconombank had been established a few months before the Soviet Union and changed its name from the Bank for Development and Foreign Economic Affairs of the USSR to the Bank for Development and Foreign Economic Affairs of Russia as late as 16 years after the dissolution of the Soviet Union.  During these 16 years, the government body of a non-existing country was solely involved in settling the USSR's foreign debt inherited by the Russian Federation.
Thanks to high world prices for energy and mineral resources that represent Russia's main source of revenue, in the 2000s the country's foreign debt was successfully settled, and Vnesheconombank was given a new ambitious task of financing major federal projects–naturally, using state funds.  As a result, VEB allocated credits in the amount of at least 240 billion rubles for the construction of the 2014 Sochi Olympic venues. The majority of facilities built with this money are currently experiencing only losses. Vnesheconombank has also provided loans, the carrying value of which amounts to 469.6 billion rubles, to undisclosed Russian companies to finance Ukraine's iron and steel enterprises, mostly located in Donbass, where mines and factories either have been abandoned or are being controlled by separatists, who obviously do not intend to pay the debts.     At the same time, through affiliated companies, VEB owns the Foundation for the Development of the Far East, the North Caucasus Development Corporation, VEB Innovations, the Russian Direct Investment Fund, Roseximbank, and the Russian Export Center. It also acts as an agent of the government in managing Russian citizens' retirement savings, the national debt, and Russia's external assets.
Had oil and natural gas prices remained high, VEB could have continued distributing government money without expecting reimbursement, in accordance with the goals set by the Kremlin, for a long time to come. But world commodity prices "unexpectedly" began to decline, and this had an effect on Vnesheconombank's balance-sheet: its net loss in 2014, accounted under international standards, amounted to 250 billion rubles. By the end of 2015, it became clear that VEB was in urgent need of salvation: it required the injection of 1.34 trillion rubles, which amounts to 1.7 percent of Russia's GDP.
In January 2015, Vnesheconombank Chairman Vladimir Dmitriev, who allegedly, like Vladimir Putin, is a former KGB's officer, blamed the multibillion losses on Western sanctions and the economic crisis. Meanwhile, Dmitriev maintains that state-owned entities can be effective, and that VEB is a testimony to that. The "effectiveness" of VEB is truly spectacular: its combined assets amount to some 5.5 percent of Russia's GDP; 17.2 percent of these are distressed loans. That same month, in January 2015, the Audit Chamber published a devastating report on VEB, concluding that its investments were "ineffective" and "unaccountable." In spite of this, rumors of Dmitriev's resignation that appeared in November have so far not been borne out: as Putin explained in his annual state-of-the-nation address to the Federal Assembly, he "treats people with care."
According to Economic Development Minister Alexei Ulyukaev, "there is no other way [of saving VEB] than through budgetary assistance." Even if the minister privately dreams of dissolving VEB, he has to choose between politically realistic options. The dissolution of VEB is a far too complex managerial task, given its numerous socially significant assets and functions. If one imagines the scale of problems that the government would have to solve in case of this monster's dissolution, it becomes clear why no one is lobbying for this most effective answer. VEB has already received 300 billion rubles from the National Wellbeing Fund and 27.5 million rubles from the Central Bank's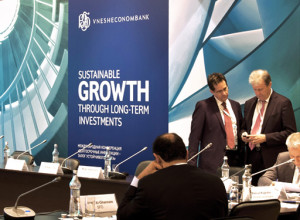 revenues in order to raise its capital adequacy. It is clear that, with any plan for saving VEB, it would be impossible to stay within the legally mandated 3 percent budget deficit, so the Russian government has simply decided to measure the deficit without taking into account its assistance to VEB.
The preservation of VEB in its current form at any price, without regard for possible financial and economic consequences, is part of the Kremlin's policy that aims to protect itself and preserve the power of Putin's clan that has become mired in corruption and only survives through a redistribution of fast-evaporating state resources. This budgetary and financial monster, which has been raised by the oil-dependent economy, and acting as a drug dealer   for various other state dependents, risks dragging the entire Russian budget–which is already falling apart at the seams–into a black hole.