The Privatization of Bashneft: An Exercise in Futility
The Kremlin finally decided to approve the privatization of Russia's major oil company Bashneft that had belonged to privately-owned AFK Sistema until its shares have recently been literally robbed while its owner Vladimir Yevtushenkov was being held under house arrest. Bashneft shares that used to belong to Yevtushenkov have been returned to the state, and the government now hopes that the sale of Bashneft will bring the much-needed money to replenish the Russian budget. However, the way the Russian authorities are preparing the sale of this valuable oil asset makes one think of yet another shady transaction.
On May 16, President Putin excluded 50 percent plus one share of Bashneft from the list of strategically important companies thus paving the way for the sale of the state's majority stake. Today, the Russian Federation owns 60.16 percent of Bashneft's voting shares (or 50.08 percent of its authorized capital). The regional government of the Republic of Bashkortostan, which is a federal subject of the Russian Federation, owns an additional 25.79 percent of the company's voting shares (or 25 percent of its authorized capital).
The first question that comes to mind: What exactly is being sold? The Russian Federation is currently considering whether to sell a stake of 25, 50 or 75 percent together with the stake of the Republic of Bashkortostan. The regional government of Bashkortostan, however, does not support the idea of selling its stake in the company. The republic expects to at least keep the blocking stake (25 percent plus one share) in order to retain the right to influence the company management. Or else it could try to block the sale altogether thus demonstrating a peculiar Bashkir "hospitality" by inviting a potential investor to the region where local authorities vigorously oppose the privatization.
The second question: Whom might the company be sold to? Lukoil and Independent Oil and Gas Company (NNK) run by Eduard Khudaynatov have already voiced their interest in purchasing Bashneft. Lukoil is an acknowledged leader of Russia's oil industry and perhaps the only privately-owned oil company on the Russian market that is not associated with Putin's "friends." The same cannot be said about NNK though. This company's owner, Eduard Khudaynatov is the former president and current member of the Board of Directors of Igor Sechin's Rosneft. It is obvious that, just like most of the country's major private companies, controlled by people close to Putin, NNK can only be technically considered a privately-owned business. A certain CJSC Tatneftegas is a third and rather "shady" pretender interested in the upcoming sale. Tatneftegas offered to pay $6 billion for the temporary possession of the state's stake in Bashneft amounting to 75.08 percent for a period of 10 years. It is yet unclear who is behind Tatneftegas and why the company is coming forward with such a weird proposition. Most likely Tatneftegas belongs to Russneft's owner Mikhail Gutseriyev since it is run by his close friend and Russneft former Vice President Sergei Bakhir.
The third question is how much Bashneft should be sold for. According to Vedomosti's sources in the government, the state hopes to sell its stake in Bashneft for twice its market price. On May 17, 2016, Bashneft's capitalization stood at 489 billion rubles (about $7.5 billion).  The Kremlin can dream on of course but according to Lukoil Vice President for Strategic Development Leonid Fedun, they "will not even look at 25 percent" and they "have an understanding of a fair price and will not pay a cent more".
The fourth – and probably the most difficult – question: Where will the money come from? None of the potential buyers possesses enough resources to purchase Bashneft. Lukoil representatives have already declared that the company was not prepared to overpay. As Khudaynatov wrote to Russian Economy Minister Ulyukayev, NNK plans to attract outside financing to purchase Bashneft shares. International financial markets, however, remain closed to Russian borrowers due to sanctions introduced in response to Russia's aggression against Ukraine. Furthermore, Putin said that money from state banks should not be used for the purpose of privatization. Consequently, it remains unclear how Bashneft could be sold for double its price and without loans.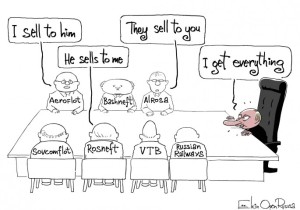 As has become "customary," the buyer of Bashneft will be chosen in the Kremlin, "among close friends," so as not to offend "anyone that matters." Suffice to remember how this was done with Northern Oil, Yuganskneftegaz, TNK-BP and other such companies. However, unlike Rosneft's major purchases made in the past, "close friends" have no more disposable funds left and they cannot get what they need on international capital markets anymore. Thus, although it is possible that Basheft will be sold, the Russian budget will not get the desired multi-billion revenues. It is most likely that state banks and "experienced oil businessmen" loyal to Putin will yet again simply move funds around which will as usual allow those included in the corruption chain to make good money. An exercise in futility – this is what the privatization of Bashneft will look like when it moves from Putin's hands into the hands of Sechins.
Categories:
Economics, Investment
AFK Sistema, Bashkortostan, Bashneft, Gutseriyev, Khudaynatov, Privatization, Putin, Sechin, Tatneftegas, Yevtushenkov