Andrey Stolbunov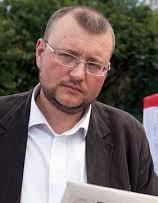 Mr. Stolbunov is an attorney and a Vice-Chairman of the Presidium of the Moscow Bar Association "Zakon & Chelovek" ("Law and Man")  and the Chairman of the Board of the Public Human Rights Organization "Spravedlivost" ("Justice"). He currently resides in the United States, having have fled an  unlawful criminal prosecution on trumped-up charges. These charges followed his proactive struggle for the rights of the citizens of the Russian Federation that fell victim of the corrupt Russian government. From 2003 he practiced law in such areas as the protection of the interests of the companies subject to hostile takeovers ("corporate raiding"), consulting for commercial and not-for-profit organizations, and defense in criminal proceedings.
Mr. Stolubunov's main objective was to provide legal support  for the economic security of business.
From 2006 to 2013 his public activities included:
–  Holding the position of the Editor–In-Chief of the "Public and Legal Portal "Justice";                                                                                                                                      –  Participation in the drafting of the legislation for public control, as a member of the working group of the Presidential Council on Human Rights;                                  – Developing the technologies to facilitate public inquiry that would target corruption;                                                                                                                                   – Being an expert of the Public Chamber of the Russian Federation and a number of media outlets (Channel One, Russia 24, TV Center, "Rossiyskaya Gazeta" ("Russian Newspaper"), "Novye Izvestia" ("New Izvestia"), "Novaya Gazeta" ("New Gazette"), "Argumenty Nedeli" ("Arguments of the Week"), "Parlamentskaya Gazeta" ("Parliament Newsletter").